 Courses and certifications

Open Source
Deep Learning: end-to-end pipeline for objects detection
15.000 CZK
Price (without VAT)
Description:
Deep learning and AI are quickly becoming an essential part of almost every branch of industry and services. While there are many great courses and tutorials on neural networks architecture, state-of-the-art object detection models or frameworks like TensorFlow or PyTorch, only few discuss how to really productionalize them and efficiently implement them in your business.
In DataSentics, we have years of experience in Computer vision, so we decided to gather the knowledge of our machine learning engineers and create this two-day course which will take a toy example of detecting whether employees are wearing facemasks to demonstrate all steps of deploying a deep learning model.
Audience:
Junior machine learning engineers and Data Scientists.
IT Managers, CTO, CIO who want to understand how deep learning might improve their business and what would be the scope of the solution.
Goals:
Definition of your problem and exploration of available solutions (from simple visual features to complex neural models).
Brief introduction to deep learning, SOTA models and favorite frameworks.
Collecting a suitable dataset and comparing several selected models based on their speed and accuracy.
Training the model (Azure, AWS, GCP) and deployment (docker, kubernetes).
Reporting the results.
Course guarantor: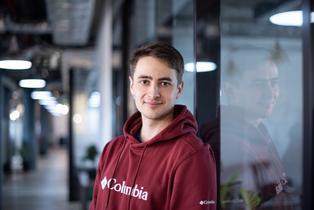 Ing. Dominik Vít works at DataSentics as a machine learning engineer. After studying statistics and applied mathematics at FJFI CVUT he moved deeper into the field of computer vision and deep learning. He worked on projects like automated visual inspection in Skoda auto factory, Shelf inspector app for in retail out-of-stock optimization or entity extraction from scanned invoices for Digitoo startup.
Outline: 
Deep learning in the real world

What are the current trends in AI and deep learning
Interesting DataSentics projects
A brief history on Deep learning

What is a pixel - "no seriously"?
Basic image features (SIFT, histogram, FD)
A rising sun of Neural networks
Current trends and a future of deep learning
Datasets (where to get them, labels, wrangling)

Kaggle and available datasets
Annotations – the building stone of your DL project
Generating a dataset – you can make one on your own!
Augmentations and oversampling
Current solutions model exploration and tranfer learning

SOTA papers, Medium
Clone a git repo – bend it to fit your needs
Training the model

TensorFlow vs Pytorch (and other frameworks)
On-premise vs cloud
Model deployment and productionalization

Lecture on Kubernetes and message brokers (RabbitMQ)
FastAPI
Reporting

Finding suitable metrics for your needs (or your clients')
PowerBI, Excel, mAP, accuracy
Prerequisites:
Python programming knowledge is recommended to fully take advantage of our workshop lab sessions, but you can still benefit from the course without it.
Basic knowledge of Git, bash and other technologies is useful.