Courses and certifications

DevOps
DevOps - from Theory to Practice
The term DevOps has been here with us for 10 years and helps companies to transform how they develop and operate applications. There are a number of courses that address the tools that are needed for DevOps approach. However, this course focuses on things that DevOps cannot succeed without, and yet they are often neglected. In order to be successful with your digital transformation, we will talk about the DevOps basics, setting up the right organizational structure and building a corporate culture. All this with real company stories and supported by first-hand experience.


Audience
IT Managers, CTO, CIO
Head of Development and Operations manager
Team leaders


Goals
Identify situations where DevOps can bring a competitive advantage to your business
Set up the company organizational structure for DevOps approach
Accelerate the process of delivering new features and changes to IT systems
Speed-up ​​and streamline feedback from users to developers
Set up your business to support learning and experimentation
Meet regulatory and safety requirements while maintaining agility


Course guarantor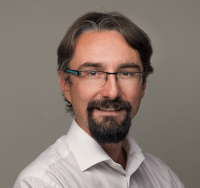 Michal has been working in the technology field since the early 1990s as a programmer, analyst, architect and manager. For many years he worked in MALL.cz, later in Mall Group, as the main system architect and subsequently CTO. Now he helps start-ups as a partner of the Reflex Capital fund, and also provides consulting and training in IT. The topic DevOps has been dealing with since the very beginnings of this movement in 2008.
 
Outline
Part 1: Three Ways
What problems DevOps can help solve
The main theses
History
Background and context:

Lean Manufacturing
Theory of constraints
Toyota Production System
Agile methods of development

Three ways to improve: Workflow, Feedback, and Continuous Learning and Experimenting
Part 2: Getting Started
Understanding where value is created
Conway's law
Set up your organization and teams (SRE, cross-functional)
System architecture and its evolution from physical servers to server-less
Integration of development and operation
Part 3: Accelerating workflow
Deployment pipeline optimization
Automated testing
Continuous Integration
Deployment with minimal risk
Part 4: Feedback
Telemetry and monitoring
Key metrics
Effective developer feedback
A / B testing
DORA report, known successes and failures of others
Part 5: Learning and experimenting
Post-mortem analysis
Security culture
Chaos engineering
Dissemination of knowledge in the company
Part 6: Safety and regulatory obligations
Security as an integral part of all processes
Automation of security and processes
Compliance with audit obligations
 
Prerequisites
The course will benefit you if:
You have an overview of IT and its processes
Your business develops (whether externally or internally) applications and operates them
You feel that things are not going as fast as you would like